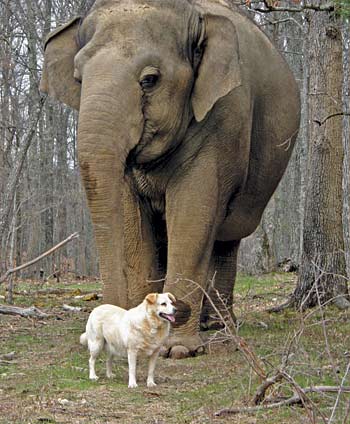 They say an elephant never forgets, and a dog's love is unconditional; what better example of friendship than a bond between these two amazing creatures? Such a friendship was, for eight years, one of the ongoing wonders of the Hohenwald Elephant Sanctuary, after a stray dog who came to be known as Bella was adopted by an elephant named Tarra and the two became inseparable.
Last October, Bella's tragic death to an attack by coyotes–after which Tarra gently carried her departed friend home–has led to the designation of an official "Remembering Bella Day," happening this Saturday, June 2nd.
On Remembering Bella Day, the Elephant Sanctuary and The Farm are encouraging everyone to consider adopting a shelter or rescue dog from somewhere like Nashville Humane Association, for which The Farm weekly sponsors a pet to appear in newspapers and on our website in ads such as these. Or, if you are considering adopting but aren't quite ready yet, keep an eye out on this blog for one of The Farm's adoption events, where we gladly host organizations such as Middle Tennessee Golden Retriever Rescue or Big Fluffy Dog Rescue along with the dogs they have for adoption.
Additionally, if you'd like to share a story of a dog you rescued, or read touching stories from other people, the Elephant Sanctuary's website has a wall here where you can post and read these stories.
If you have a chance to make a trip to Hohenwald on Saturday, from 11am to 4pm the Sanctuary will have several rescue dogs up for adoption from High Forest Humane. Additionally, you can catch Sharon Langford doing a book signing for her wonderful book Living with the Rescues, and learn even more about Bella and Tarra and their inspirational friendship.